Our Top Selling Package of 2021

Amplify Your Story | Hyper-Target Your LGBTQ+ Demographic
#ILoveGay Twitter 360° Network
Our offer is simple. We work with you to get your story developed and then distributed via a bit of PR and a heavy dose of targeted social media.
We start with your story... this serves as the foundation for this campaign. It can be an article written about your company, your product and/or your service, or even better, an interview. We have the writers on staff to work with you on this initial piece.
We distribute this article and/or interview using traditional PR methods, ensuring it is delivered to the right contacts at over 650 LGBTQ+ media outlets in the US and Canada.
We then combine these traditional aspects of marketing and PR and merge them with social media marketing outreach via our #ILoveGay network, 450,000+ followers and growing.
Cost: $1,500 for the article/interview, press distribution AND #ILoveGay social media distribution for 30 days.
To Get Started, Pay Online Here

Options:

Facebook Targeted Advertising: Offering highly targeted advertising to reach your company's LGBTQ+ demographic. In the following example shown to the right, this targeting selects individuals living in the New York City area, 18-65+, who have shown an interest in Barcelona, Madrid, Ibiza or just Spain in general, AND show an interest in LGBTQ travel. Layering these interest data sets together allows us to target gays men and/or lesbian women who would like to travel to Spain. This type of targeting allows us to focus on your key demographic like never before.
Costs starting at $500 per week.
---
Merge Track #1 and #2 together and save! $2,500 for 30 days merging both of these strategies into one campaign!

Add our YouTube video add-on, where we promote your #ILoveGay Today interview to your target demographic:
Starting at $500!
Click Here for our Brochure & Media Kit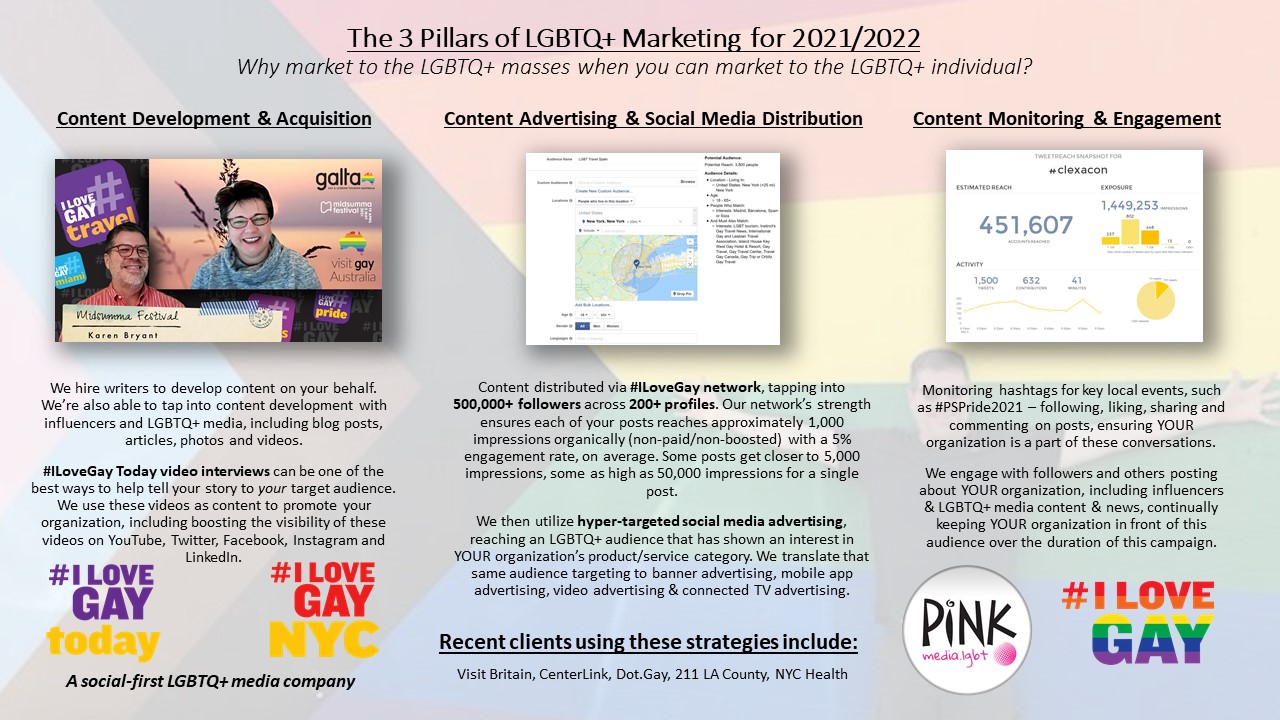 Estimated impressions and reach for Pink Media / #ILoveGay outreach
Views
Clicks
CTR
E-Mail Campaign
10,000
200
2.0%
Banner Ads
50,000
250
0.5%
Facebook & Twitter Ads
20,000
200
1.0%
ILoveGay Twitter 360°
20,000
300
1.5%

---

Impressions
Engagement
ER
Facebook & Twitter Ads
20,000
1,000
5.0%
ILoveGay Twitter 360°
20,000
750
3.5%
*Engagement: Likes, Comments and Shares / ER = Engagement Rate
*Estimate is for a $500 monthly investment in each line item above
Recent Video campaign performance
Platform
Amount
Video Views
Cost per 1,000 video views
Impressions
CPM
Twitter
$100
7,353
$13
17,870
$6
Facebook/Instagram
$100
2,570
$39
12,347
$8
YouTube
$100
1,836
$54
77,103
$1


Social Media Reach from our #ILoveGay social media networks (including @ILoveLGBTTravel, @ILoveGayLGBT, @ILoveLGBTBiz, @PinkMediaWorld and @ILoveGayViews) is now over 475,000+ followers on Twitter, Facebook and Instagram combined.
Twitter: 450,000+ followers
Facebook: 25,000+ followers
Instagram: 4,500+ followers
One of our more recent campaign based on this strategy had the following performance on Facebook:
Impressions (including Instagram targeting): 21,612
Reach: 12,860
Link Clicks: 624
Click Through Rate: 2.88%
Comments: 22
Shares: 29
Engagement: 675
Engagement Rate: 3.12%
Basic Demographics: 73% men, 27% women
Cost: $0.45 per click
Supporting Information
Contact Us